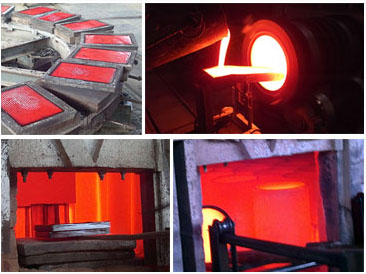 Feature of Penglai Cast Basalt Production Process
Features of Penglai cast basalt products: single raw material, melting at low temperature and rapid crystallization and annealing.

Single raw material: Because the chemical composition of Penglai basalt is very similar with cast basalt, so it can produce the cast basalt production with excellent performance and accord with a standard cast basalt work whit out any auxiliary material .Single raw basalt material not only simplifies the production process, but also ensure the quality of magma. In batching process, due to the granularity of main and auxiliary materials is different, in blanking process the speed is different too, so it cause material content in the molten magma uneven, the chemical composition of the magma always not stable. And single basalt material has good chemical stability, it can fundamentally ensure the quality of the magma, thus ensuring the quality of the cast basalt products.

Low temperature melting:the melting temperature is from a temperature 1460 ℃ of batching process down to a temperature 1260 ℃, which can largely saves gas cost and reduce 30% fuel. Due to the decrease of melting temperature, increasing the service life of the refractory materials in the melting furnace, the clayey refractory out of threshold temperature condition of the working conditions, the life of the furnace can be extended more than five times. The low temperature melting can achieve the effect of saving energy and reducing consumption better.

Rapid crystallization and annealing: magma in the different molds within 2 to 4 minutes to complete crystallization molding, and then take off mold to anneal. Compared to production ingredient time of crystallization will shorten two minutes. Penglai basalt containing about 14% of FeO and Fe2O3, they can generate magnetite crystal nucleus in weak oxidizing atmosphere, in the process of forming, the crystallization nuclei have the effect of promoting crystallization. After annealing from the tunnel kiln, the annealing time of cast basalt products from 100 hours reduce to 40 hours, shortening the production cycle of products, so it can meet the requirements of the customers order cycle time better .