Details :
Cast basalt lined steel pipe is made with lined cast basalt pipes, coat steel pipe and the cement mortar filling between the two layers, it sets the wear resistance and corrosion resistance of cast stone pipe, the toughness of the steel pipe and the consolidation of the cement mortar in one. Greatly improve the product's ability of adapting various complicated working condition. At the same time using cement mortar as filling material, can make the pipe inner surface in alkaline medium, so that the surface of the steel pipe will produce a purified film to prevent corrosion. Cast basalt lined steel pipe is not only resistant to wear and corrosion, against high pressure, but also convenient and safe to transport.
Cast basalt pipe can be divided into straight pipe, elbow, three-way (four-way) pipe and variable diameter pipe, etc.
The nominal diameter series of cast basalt lined steel elbow pipe is the same as the cast basalt lined steel straight pipe , the turning radius and central Angle can be made according to the requirements of customers.
The technical parameters of the coat steel of cast basalt lined steel pipe according to the operating pressure of the pipeline system to determine.
Main Specification of Cast Basalt Lined Steel Pipe
Cast Basalt Pipe DN
(mm)

Standard Steel Pipe OD
(mm)

Cast Basalt Thickness
(mm)

Length
(mm)

80

159

25

4000

100

168

17.5

20

4000
6000
8000

125

195

150

219

175

245

6000
8000
10000
12000

200

273

225

300

250

325

275

345

300

377

350

426

400

478

20
25

450

529

500

600

25

550

650

600

720

30

6000

650

770

700

820

750

870

800

920
We can provide all specifications of cast basalt lined steel pipe which nominal diameter is over φ40 mm.

The other specification of cast basalt lined steel pipes can be manufactured by customers technical requirements. For the large diameter cast basalt lined steel pipe which nominal diameter is more than 800mm. Usually according to the running condition of pipeline, using different cement to affixed the cast basalt tiles to the inner of finished steel pipe, and complete the cast basalt lined steel pipe. Its advantages are good wear resistance, the use of a wide range, basically not subject to pipe size restrictions, and pipe fitting low cost.

The Connection of Cast Basalt Line Steel Pipe
Cast basalt lined steel pipe can connect with flange, quick assembly joints and welding .

Flange connection
Flange connection is one kind of common pipeline installation connections. By two pieces of flanges, pipeline, valve, equipments are connected and it forms a tight piping system. When pipeline pressure is larger, flange connection is priority selection. Flanges have lots of different sizes. Flange size is determined according to pipeline normal diameter and pipeline operation pressure.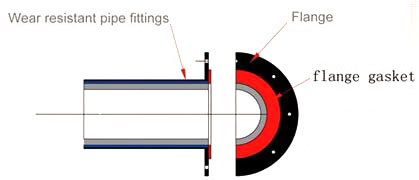 Welding & beveled end
It suits short distance pipeline system without maintenance. It is one kind of common installation connections. It requires installation personnel higher welding ability. It also restricts by welding site, distance, welding positions. Welding connections is inconvenient in later maintenance.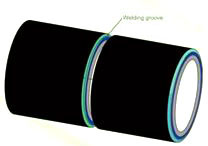 Easy-flexible joint connection
It is one of high efficient and rapid installation connection. I t has the below characteristic: Easily install and disassemble, fast installation, temperature adjustable compensation function, saving the necessary expansion in long pipeline. Easy-flexible joint also has angle compensation characteristic. At smaller angle turning points, easy-flexible joint can be instead of bends and adjust angle.